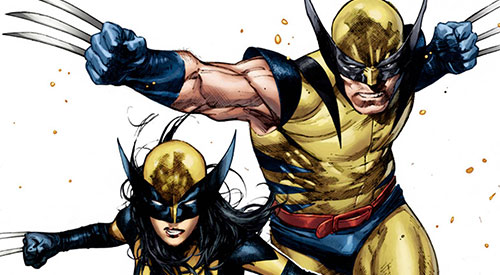 Pre-Order Marvel's GENERATIONS event today! This set is scheduled to ship to customers September 27th, 2017. No international orders at this time, sorry!
In a flash, the Marvel heroes are offered a gift: to stand shoulder-to-shoulder with those who came before them, free from the burdens of past, present, and future – where time has no meaning. Within the Vanishing Point, through the course of these action-packed adventures, our heroes will discover what is needed to usher in the future of the Marvel Universe. This August, prepare for Marvel's GENERATIONS!
This epic 10-issue series brings together iconic and present day heroes such as Miles Morales and Peter Parker, Amadeus Cho and Bruce Banner, Iron Man and Ironheart, Laura Kinney and Logan, and many more of your favorite characters. "GENERATIONS unites the present day heroes of the Marvel Universe with their forbearers from the past in order to chart the course of the future!" says SVP and Executive Editor Tom Brevoort. "These ten adventures are the stepping stones to everything that is to come for all of these characters!"
The stories of GENERATIONS begin at the Vanishing Point, and these epic tales offer fans a direct bridge and prelude into the sense-shattering Marvel Legacy, as the challenges and revelations of GENERATIONS will alter the destinies of our heroes moving forward in a dramatic fashion!
MARVEL GENERATION SET – $89.99
Generations: The Best starring Wolverine and All-New Wolverine
Regular Cover and Coipel Variant Cover
TOM TAYLOR / RAMON ROSANAS
Generations: The Americas starring Steve Rogers: Captain America and Sam Wilson: Captain America
Regular Cover and Cassady Variant Cover
NICK SPENCER / PAUL RENAUD
Generations: The Bravest starring Captain Mar-Vell and Captain Marvel
Regular Cover and Coipel Variant Cover
MARGARET STOHL / BRENT SCHOONOVER
Generations: The Thunder starring The Mighty Thor and The Unworthy Thor
Regular Cover and Coipel Variant Cover
JASON AARON / MAHMUD ASRAR
Generations: The Strongest starring Bruce Banner and Amadeus Cho, the Totally Awesome Hulk
Regular Cover and Keown Variant Cover
GREG PAK / MATTEO BUFFAGNI
Generations: The Archers starring Hawkeyes, Clint Barton and Kate Bishop
Regular Cover and Torque Variant Cover
KELLY THOMPSON / STEFANO RAFFAELE
Generations: The Iron starring Iron Man and Ironheart
Regular Cover and Coipel Variant Cover
BRIAN MICHAEL BENDIS / MARCO RUDY
Generations: The Marvels starring Ms. Marvel and Ms. Marvel
Regular Cover and Coipel Variant Cover
G. WILLOW WILSON / PAOLO VILLANELLI
Generations: The Spiders starring Peter Parker: Spider-Man and Miles Morales: Spider-Man
Regular Cover and Coipel Variant Cover
BRIAN MICHAEL BENDIS / RAMON PEREZ
Generations: The Phoenix starring The Phoenix and Jean Grey
Regular Cover and Dodson Variant Cover
CULLEN BUNN / RB SILVA