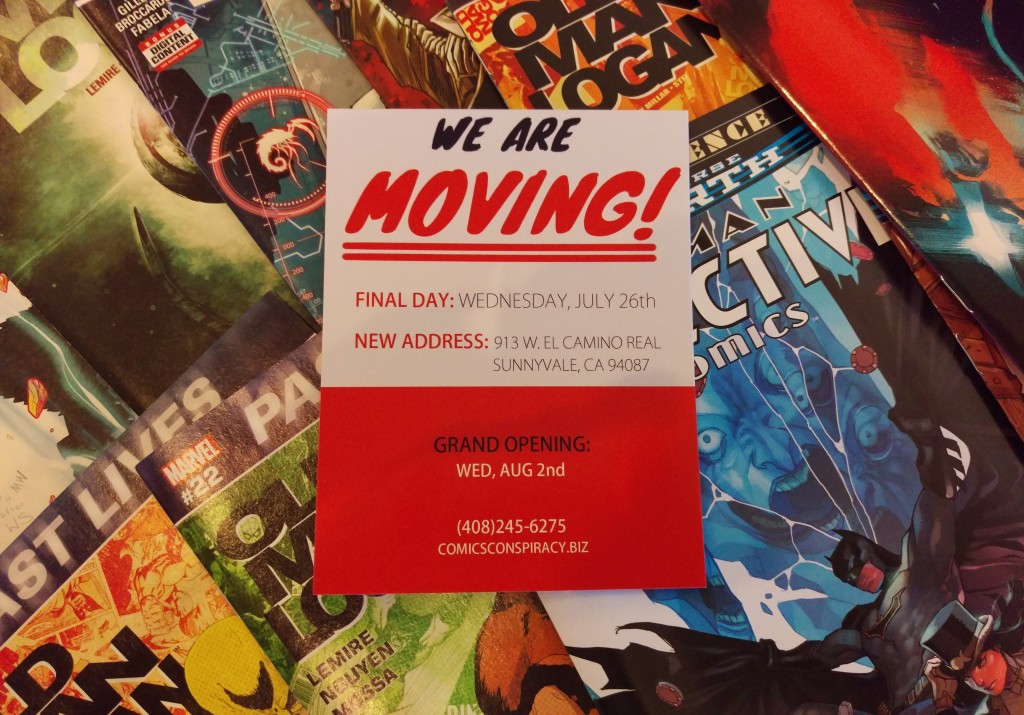 After 24 years, Comics Conspiracy is moving! Our final day at our current location is Wednesday, July 26th. Our grand opening at our new location is Wednesday, August 2nd. The new address is 913 W. El Camino Real, Sunnyvale CA 94087, located less than 2 miles from our original location, on El Camino between Mary Ave and Hollenbeck Ave. We're next to Thai Spoons, directly across from the Toyota Sunnyvale dealership. The shop faces El Camino, so it's very easy to see from the street, especially with our big and bright new LED sign!
Our big MOVING SALE begins Friday, July 21st and runs through Wednesday, July 26th. We're offering these special sale prices on Friday-Sunday:
– 25% off all Current Comics, Graphic Novels, Wall Back Issues, Toys, Statues, Magic Cards, Heroclix
– 50% off all Back Issues, Comic Sets, Used Graphic Novels
Please note, there is no discounts on supplies, New Releases, or subscriptions.
Starting Monday, July 24th, we'll have additional discounts that will be announced on that day. Sign up for our mailing list to be the first to see the discounts!
We hope everyone will join us at our new location for our opening day of Wednesday, August 2nd and our Grand Opening Party on Saturday, August 5th.