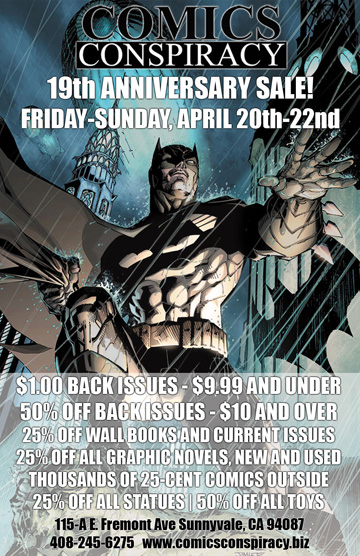 Come celebrate our 19th Anniversary with our annual giant April sale!
All Back Issues $9.99 and under are just $1.00 each!
All Back Issues $10 and over are 50% OFF!
All Wall Issues, Current Issues, Graphic Novels (new and used) are 25% OFF!
All Toys are 50% OFF and all Statues are 25% OFF!
And as always, we'll have thousands of comics outside for 25-CENTS EACH!
Come catch up on some new comics, fill in those missing back issues, or try a brand new series from any of our thousands of Graphic Novels, and you'll save big! This sale runs Friday, April 20th through Sunday, April 22nd during our normal hours of 11am-7pm (6pm on Sunday). Don't miss the biggest sale of the year!