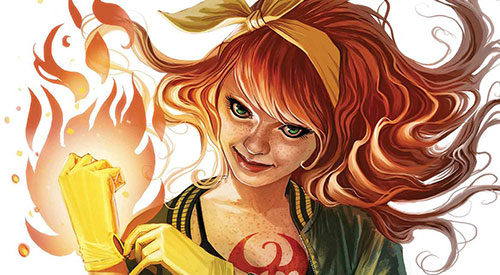 Face it Tiger, you just hit the jackpot — pre-Order Marvel Comics' June-shipping MARY JANE VARIANT COVER SET today! 22 variant covers by some of Marvel's best artist take on the one and only Mary Jane Watson and re-imagine her as some of Marvel's greatest champions! You can see all the covers at Newsarama, which will be updated with all the covers as they're revealed. These are scheduled to ship in June, 2017. No international orders, sorry.
MARY JANE VARIANT COVER SET – $79.99
ALL-NEW GUARDIANS OF THE GALAXY #3 by TBA
ALL-NEW WOLVERINE #21 by David Lopez
AVENGERS #8 by Mike Allred
BLACK BOLT #2 by Ryan Stegman
CAPTAIN AMERICA: STEVE ROGERS #18 by Paolo Rivera
CHAMPIONS #9 by Helen Chen
DAREDEVIL #21 by Humberto Ramos
DEADPOOL #32 by Elizabeth Torque
DOCTOR STRANGE #22 by Francisco Herrera
GWENPOOL, THE UNBELIEVABLE #17 by David Nakayama
HULK #7 by Rahzzah
I AM GROOT #2 by TBA
INVINCIBLE IRON MAN #8 by Marco Checchetto
IRON FIST #4 by Stephanie Hans
MIGHTY CAPTAIN MARVEL #6 by Chris Samnee
MIGHTY THOR #20 by Patrick Brown
PUNISHER #13 by Dave Williams
SECRET WARRIORS #3 by Humberto Ramos
SPIDER-GWEN #21 by Kevin Wada
VENOM #151 by Francesco Mattina
X-MEN BLUE #5 by TBA
X-MEN GOLD #5 by Anthony Piper
THIS SET IS NOW SOLD OUT, SORRY!