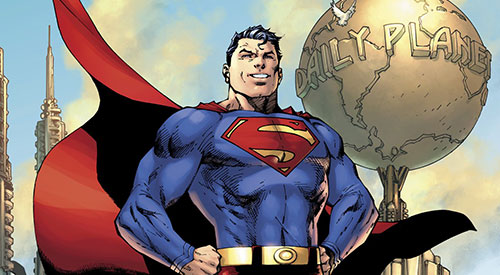 The landmark ACTION COMICS #1000 Cover Set is available for pre-order! Ships April 18th, 2018.
Please note, we've received many more orders than we initially planned for, so some orders placed after the order cut-off date of March 19th will now ship on April 25th.
Once again, we've stopped taking orders so we can process all existing shipments. If copies become available, we'll open this back up. Sorry!
DC is going all-out to celebrate the one-thousandth issue of ACTION COMICS – the longest continually published comic book of its kind in history, the series that introduced Superman to the world and the title that launched the superhero genre. The Jim Lee-drawn cover features a new costume that integrates a variety of classic and new elements, including the Man of Steel's trademark red trunks.
"ACTION COMICS #1000 represents a watershed moment in the history of not just comic books, but entertainment, literature and pop culture," said Lee. "There's no better way to celebrate Superman's enduring popularity than to give him a look that combines some new accents with the most iconic feature of his classic design."
Available at comics retailers on April 18, ACTION COMICS #1000 features the DC debut of acclaimed writer Brian Michael Bendis in a 10-page Superman story featuring art by DC publisher and celebrated artist Jim Lee. This milestone issue will also include two 15-page stories from two of DC's current and most popular talent teams: SUPERMAN writer Peter J. Tomasi and artist Pat Gleason, as well as ACTION COMICS writer and artist Dan Jurgens.
"The one-thousandth issue of ACTION COMICS is an incredible milestone in pop culture and a testament to the vision of Jerry Siegel and Joe Shuster," said DC publisher Dan DiDio. "Without this book, along with Siegel and Shuster's fertile imaginations and boundless creativity, the superhero's place in literature may have been wildly different, if not altogether nonexistent."
This must-have collector's item comic book will also feature previously unpublished art from Curt Swan, whose dynamic, iconic style many consider the definitive look for the Man of Steel throughout comics' Golden and Silver Ages. Acclaimed DC writer Marv Wolfman will script a story based on this never-before-seen content. In addition, the comic will include a collection of memorable bonus stories from some of the most celebrated names in comics and entertainment.
Contributors to this once-in-a-lifetime issue include legendary Superman movie director Richard Donner and New York Times best-selling writer Geoff Johns, with art by Olivier Coipel. Other contributing creative teams will include Paul Dini with Jose Luis Garci­a-Lopez; Tom King with Clay Mann and Jordie Bellaire; Brad Meltzer with John Cassaday and Laura Martin; Louise Simonson with Jerry Ordway; Scott Snyder with Tim Sale and more to be announced.
* Jim Lee (Main Cover)
* Steve Rude (1930s)
* Michael Cho (1940s)
* Dave Gibbons (1950s)
* Michael Allred (1960s)
* Jim Steranko (1970s)
* Joshua Middleton (1980s)
* Dan Jurgens (1990s)
* Lee Bermejo (2000s)
* Blank Variant Cover
ACTION COMICS #1000 is an 80-page Prestige Format issue with no ads, with a cover price of $7.99 US.
Also, the ACTION COMICS: 80 YEARS OF SUPERMAN HARDCOVER is available for purchase along with a complete set of ACTION COMICS #1000 covers.
This year marks the 80th anniversary of Superman's debut in ACTION COMICS #1 – and DC is celebrating this date with the publication of the new hardcover ACTION COMICS: 80 YEARS OF SUPERMAN! It's an extraordinary party as we revisit stories from across the decades, featuring key character debuts, essays and more in a collection curated by Paul Levitz! Please note, this hardcover DOES NOT contain ACTION COMICS #1000!
Highlights of this collection include:
-A new cover by legendary artist and DC Publisher Jim Lee
-A never before unpublished twelve-page Golden Age Superman story believed to have been written by Jerry Siegel with art by the Joe Shuster Studio
-Text pieces including: an editor's note by Paul Levitz, a tribute to ACTION COMICS by Laura Siegel Larson (daughter of Superman co-creator Jerry Siegel), an introduction by Jules Feiffer, plus essays by Tom DeHaven ("It's Superman!"), David Hadju ("The Ten-Cent Plague"), Larry Tye ("Superman: The High-Flying History of America's Most Enduring Hero") and Gene Luen Yang (SUPERMAN, NEW SUPER-MAN and the National Book Award finalist "American Born Chinese")!
-The new five-page story "The Game," written by Paul Levitz with art by Neal Adams
The Superman stories from this collection include:
-"The Coming of Superman," from ACTION COMICS #1, written by Jerry Siegel with art by Joe Shuster
-"Revolution in San Monte," from from ACTION COMICS #2, written by Jerry Siegel with art by Joe Shuster
-"The Terrible Toyman!" from ACTION COMICS #64, written by Don Cameron with art by Ed Dobrotka and George Roussos, featuring the debut of Toyman
-"The Super-Key to Fort Superman," from ACTION COMICS #241, written by Jerry Coleman with art by Wayne Boring and Stan Kaye, featuring the first appearance of the Fortress of Solitude
-"The Super-Duel in Space," from ACTION COMICS #242, written by Otto Binder with art by Al Plastino, featuring the debut of Brainiac
-"The Supergirl from Krypton!" from ACTION COMICS #252, written by Otto Binder with art by Al Plastino, featuring the debut of Supergirl
-"The World's Greatest Heroine!" from ACTION COMICS #262, written by Jerry Siegel with art by Jim Mooney
-"The Superman Super-Spectacular!" from ACTION COMICS #309, written by Edmond Hamilton with art by Curt Swan and George Klein, featuring an appearance by President John F. Kennedy
-"Superman Takes a Wife," from ACTION COMICS #484, written by Cary Bates with art by Curt Swan and Joe Giella
-"If Superman Didn't Exist…" from ACTION COMICS #554, written by Marv Wolfman with art by Gil Kane
-"Squatter," from ACTION COMICS #584, written by John Byrne with art by Byrne and Dick Giordano
-"Ma Kent's Photo Album," from ACTION COMICS #655, written by Roger Stern with art by Kerry Gammill and Dennis Janke
-"Secrets in the Night," from ACTION COMICS #662, written by Roger Stern with art by Bob McLeod
-"A Hero's Journey," from ACTION COMICS #800, written by Joe Kelly with art by Pasqual Ferry, Duncan Rouleau, Lee Bermejo and others
-"The Boy Who Stole Superman's Cape," from ACTION COMICS #0, written by Grant Morrison with art by Ben Oliver
Other key ACTION COMICS stories in this title include:
-"The Mystery of the Freight Train Robberies," from ACTION COMICS #1, written by Fred Guardineer with art by Guardineer, featuring the debut of Zatara
-"The Origin of the Vigilante," from ACTION COMICS #42, written by Mort Weisinger with art by Mort Meskin, featuring the debut of the Vigilante
-"The Assassin-Express Contract!" from ACTION COMICS #419, written by Len Wein with art by Carmine Infantino and Dick Giordano, featuring the debut of the Human Target